Reviews

Hi we came along last night and it was so much fun! You're a great entertainer, so thank you!
Joanne & family including Sasu 🐾
Just wanted to say thank you for the ghost trail on Saturday – everyone really enjoyed it!
Tamsin

thank you for your tour last Saturday in York…thought it was brilliant!
Richard & Jasmine
We all really enjoyed the walk…Great fun!
Steve, York Scouts
Thank you! … they had a fabulous time!
Tilstock CoE Primary
…what a fantastic night we had Saturday. So entertaining and funny. It was the highlight of our weekend. Thanks so much
Laura and Luke
…All of the groups… thoroughly enjoyed themselves and we really appreciate you taking the time with them and us…
YHA York
…We all had a great time… Wonderfully done and very entertaining…Thank you…
Dunblane… Brigade
Thank you for a lovely tour, we very much enjoyed ourselves…
The Ladybirds
Everyone really enjoyed it.
Nestle
… We all enjoyed it.
Betty Allot
Thank you for our ghost trail.
Newport Primary School
One of the most memorable parts of the York experience.
Knut. Norway
We realy enjoyed our walk.
Katie and George
Thanks again for the tour, really enjoyed it…
Spacelabs
Thank you… for giving us a great experience.
Gunthorpe Primary School
We all really enjoyed the tour.
Jemma
We had a 3 day stay in York and by far this was the best bit. Very well done.
Angus and Lynette Park
Everyone really enjoyed the tour! Thanks ever so much!
Student Castle
We loved the scary stories… thanks for scaring us.
Dunbar Primary
… Thoroughly enjoyed the Ghost Walk… thank you very much…
Redline Aviation
May I say that our children thoroughly enjoyed the Ghost Trail… they were enthralled.
Pitmaston School
We all enjoyed your walk very much especially the story about the girl locked in that house with the plague.
Loretto Junior School
… Like to say thanks to the kind gentlemen who conducted the Ghost Walk… we had a great time once again.
Noel & Shirley
A big thank you for the tour last night. Our group thoroughly enjoyed it and… you opened my eyes to some treasures that I have been walking past for some time! It was a wonderful tour and very well conducted.
Walker Morris
Thank you again for our Ghost Walk on Saturday. We thoroughly enjoyed ourselves!
Cathy Owen
Everyone thoroughly enjoyed themselves last night!
University of York
… Probably the best tour guide I have met so far. His stories kept us all mesmerized…
Sulzer Pumps, Finland
We thoroughly enjoyed your thrilling Ghost Walk… The way you delivered your stories was absolutely superb. We think you have a gift… as you held us spellbound.
St. Bernard's Primary School
Just to say the group really enjoyed their Ghost Walk…
York St John University
Thank you so much for our ghost walk on Tuesday. Everyone thoroughly enjoyed themselves and for most it was the highlight of our away day in York.
The Medical Protection Society
…Very entertaining…
Squire Sanders
Most enjoyable and would highly recommend.
Paul S Winson Coaches
All of our children really enjoyed this. Thanks.
Stapleford Abbott Primary School
Thank you for helping make our York residential an exciting visit.
E. Oak
…Thank you for a thrilling ghost trail, you left me shivering for days.
Sam D, Hammond Junior School
It was very enjoyable.
R Bennett
Thank you so much for your wonderful ghost trail, it was spooky, spectacular and scary – even with very tired legs! You should be commended on your non-stop entertainment – even in the drizzly rain on a Thursday night. True entertainment. Thank you.
Sharon Hannah, Carole Slocombe
and Hannah Slocombe
.. Thank you for a great evening. The stories and host kept us entertained and we have been talking about the experience ever since… Keep up the good work!
Claire Moylan
We enjoyed the cats on the houses and the story about the girl who survived the plague and how the people in the house were haunted …we found it quite fun and really enjoyed the evening.
Matthew, Exhall Grange School & Science College (2011)
A great big thanks to both you and your guide for our tour on Tuesday night. The visitors enjoyed it immensely and were praising it the next day. Thanks again.
Webasto
Thank you so much for your interesting and spooky tour of York. It was great fun and I enjoyed it thoroughly.. It was amazing how many stories I can remember and picture in my head. Most of my friends agree with me that the black death story was the scariest.
Holly, Hammond School
Thank you for your stella appearance.
Nicky
Thanks for taking us on the Ghost Trail last week. Everyone thoroughly enjoyed themselves… after a day in conference.
PwC
Just a note to say thank you for the walk on Saturday. Everyone found it highly entertaining and enjoyable.
The Porsche Owners Club
I just wanted to say thank you for the ghost trail you did for our management meeting last Tuesday evening. An excellent time was had by all and on behalf of the group thank you for such an enjoyable and memorable evening.
Acorn Industrial Services Ltd
Thank you for a very entertaining ghost walk in York, the school group enjoyed the whole experience. Many thanks again for an entertaining evening.
Di Bishop. East Riding of Yorkshire Council
… one of the best ghost tours I have been on 10/10, very entertaining…
Matt
I had the pleasure of attending the Ghost Tour last Friday in a group of 12… we had an excellent evening and our host and story teller was superb.
Captain Straney British Army
… the guide was fantastic, such a great story teller with an great stage presence! … the experience was great and will definately go again…
The Yorkshire Lass Living in Aus
I just wanted to thank you for the Ghost Tour on Friday 30th April 2010 – it was brilliant! …our guide was superb! He was an excellent story teller and very witty. Everyone in the group had a great time… it was the perfect start to what continued to be a wonderful hen do!!
Gemma
I and my group of 14 multi-cultural customers came on your tour last Tuesday. I'm happy to report that they all very much enjoyed it… will be back soon…
C. Horsey. The English Bus
Thank you for our amazing ghost walk. We were very greatful and very spooked. We thought your stories were very entertaining and kept us in suspense.
Morland Primary Class 3 Year 5 & 6
My party and myself had a fantastic time on the private tour you did for us last Saturday! Thank you…!
G. Senior. Wigan
Thank you for a most entertaining evening on Thursday. My colleagues were unanimous in their praise for your skilled entertaining. A most enjoyable evening.
Mr Fleming. Humberside Police
Thanks for a great tour, very well done. My son and I loved every minute, we were the ones who recognised your voice off Pseudopod we talked about the tour all the way back home and it got us telling a few ghost stories of our own. Can't wait to hear the new story, keep up the good work.
David and Jack.
...the guide is excellent, and gives a real sense of atmosphere…good humour and some very spooky tales. The one about the plague house gave me the creeps… I went with my 15 year old son, and he was thoroughly entertained for the whole tour (and we know how hard it is to keep a teenager interested). All in all great value for money and great storytelling.
Kurt

…I really enjoyed it. It was snowing really hard and one of the coldest night of the year but it made it more fun. I loved the bloke's voice who did the tour, very dramatic and he was very entertaining. Would certainly recommend it.
Jo. East Anglia
Excellent! Great ghost walk, informative and entertaining guide and opportunity to explore bit of York we had missed.
Eviepie Wirral
We loved every minute of it. I specially loved the way it was… funny but scary at the same time. You do a fab job.
C L Ball, Redcarr (2009)
Thank you for the last night ghost tour. The tour guide was absolutely great, we enjoyed it so much
York St. John University (2009)
amazing…
Jack. Dunbar (2009)
a great night…and very, very spooky
Jade. East Lothian (2009)
thank you……..absolutely super…….we will most certainly recommend..
Miss F McClusky. Stirling, Scotland (2009)
Really great tales…thank you for sharing all of your spectatcular ghost stories with us.
A Oakes, Lightwater (2009)
Wonderful ghost stories…wonderful evening.
Ben, Surrey (2009)
Your Ghost Trail guide was fantastic! He had us all, children and adults enthralled by his stories. Thank you..
The Company of Cordwainers of the City of York (2008)
Tales of murder, mayhem, plague, Romans, scandal and more struck a chord in the fertile imaginations of our students. They enjoyed themselves thoroughly. Your guides were marvelous storytellers. Their knowledge was thorough and detailed as well as entertaining. It is no easy feat to fascinate teenagers with history, but your guides had them eating out of their hands. Well done! A good time was had by all.
Kathy Mulder. Head Chaperone.
Ecole Secondaire ArgyleNorth Vancouver Canada (2008)
It was the best night I ever had and I will never forget it. Thank you for that wonderful night about all those sad and scary stories.
Emma Blackman. Hammond School Surrey (2008)
I am writing to thank you for the spooky ghost trail you took us on… I thoroughly enjoyed it and so did many of my friends. You made it a spine chilling evening which was also lots of fun!….. Thanks once again
Catherine Holmes. Hammond School Surrey (2008)
I just wanted to say how excellent your storytellers were… full of character… a great job
University of York (2007)
… a wonderful evening…
Master – The Gild of Freemen of the City of York (2007).
Absolutely superb family entertainment! Walking around York after dark will never be quite the same again!!
Steve (2006).
We came on the tour last night and just wanted to tell you how much fun we had. We had two eight year old twins who so enjoyed it. Thanks again.
The Robinson Family (2006).
Fantastic and extremely entertaining. We had a great evening, definately a highlight of our holiday.
The Watson Family (2006).
Brilliant!… It was a perfect end to our day… I would recommend this trail to anyone visiting York.
The Hillon Family (2006).
Fantastic!! .. a funny, enlightening and spooky experience. I would highly recommend this tour to any one visiting York. It is the cream of the crop!
Jenny, Columbia (2006).
The Ghost Trail had the kids spellbound (adults too!) and rounded off a wonderful day.
Father Darren Reid, Sheffield (2006).
Thank you for entertaining us on Friday 23rd November. The young people and staff really enjoyed the experience. The gentleman who showed us around was excellent with young people.
Denise Wheatman, Peer Group Research Project. Manygates Adult Education Centre, Wakefield. (2001)
The walk was certainly one of the highlights of our visit to York…. Thank you very much indeed for your stories, the drama and the atmosphere… Your Ghost Trail was a real hit!
Fiona Gordie, Dollar Academy Scotland.
Thank you for a wonderful evening… We thoroughly enjoyed the Ghost Trail… it was the highlight of our weekend in York.
Emily Bannett, Wakefield.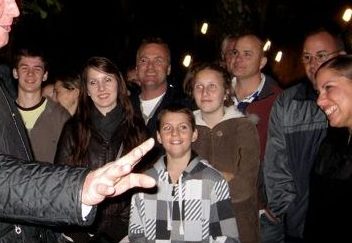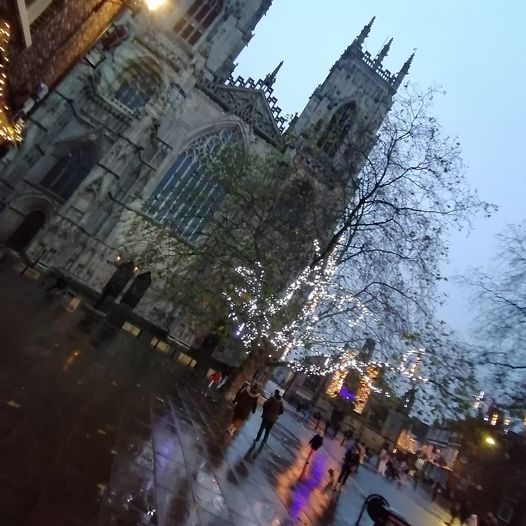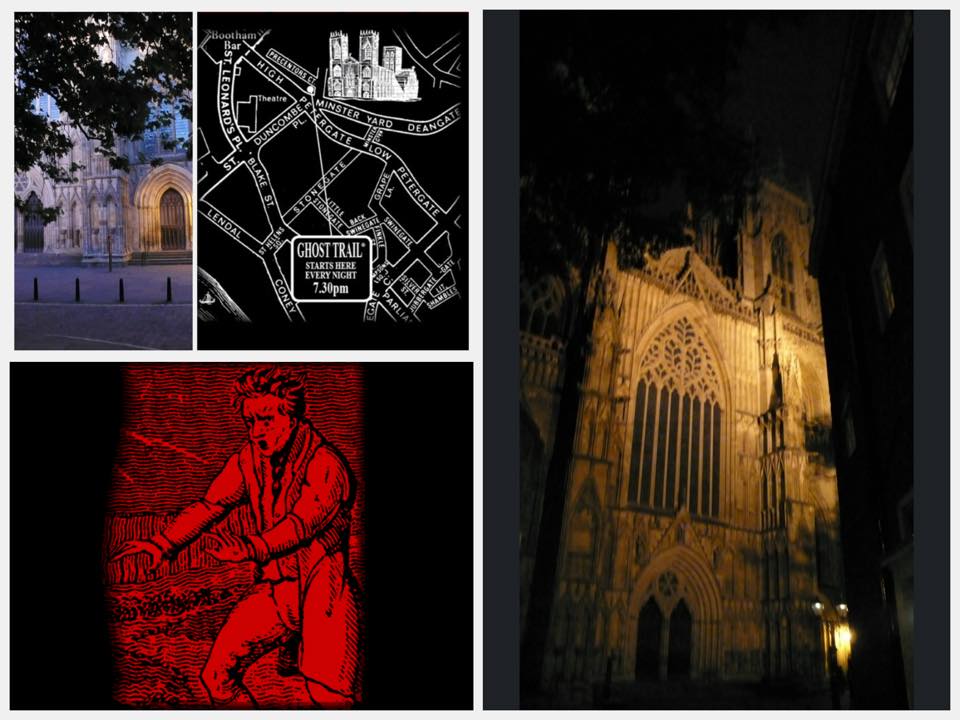 The Ghost Trail of York
Multi award winning York ghost walking tour attraction